28th Jun 15
Read on to see just how successful our fundraising weekend at Pets at Home was.
Auto Windscreens Show Support
1st Jun 15
We'd like to thank Auto Windscreens for their support with a cheque for £250. We were delighted to hear that we had been nominated for the donation and that our efforts to save the lives of dogs and cats is shared by others.
Fundraising is HUGE Success
13th Jun 15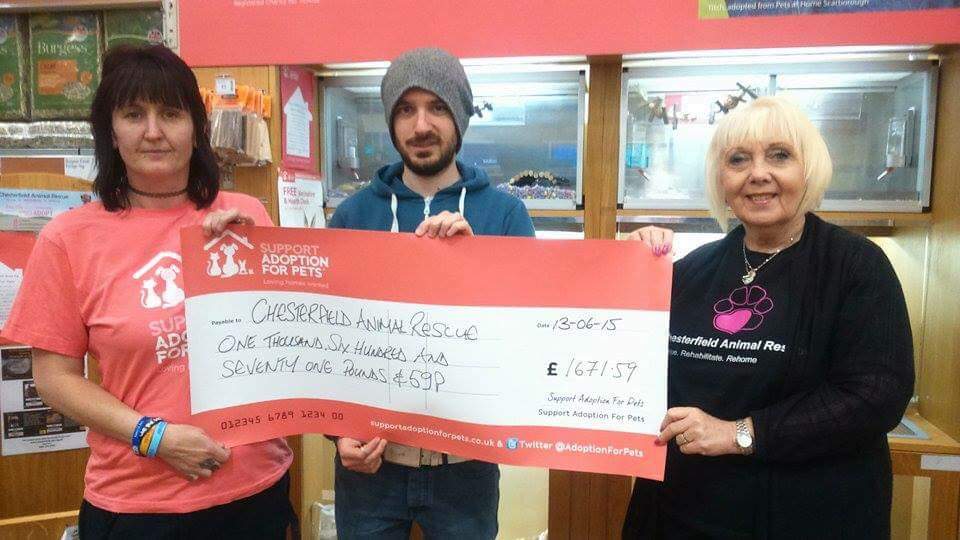 We received one of our biggest cheques to date at the latest Support Adoption for Pets fundraising event. Thanks to all those who volunteered on the stand, bought tickets or made a donation.
Social Club Food Donation
18th Jun 15
Tammy Carpenter of New Whittington Social Club very kindly organised a dog and cat food collection and we're delighted with the generosity of those who donated.
Safer Safety Donates T-Shirts
16th Jun 15
A huge thank you goes out to Pat and Michael Craven at Safer Safety Ltd for donating t-shirts with our logo embroidered on them.