June the 1st saw our first Rabbits come to our rescue. This is a heart breaking read, please be prepared for distressing scenes and photos.
How did our rabbit rescue begin?
We received a call for help and advice from a member of the public, her friend was looking after some rabbits for a breeder who was on holiday and they needed help cleaning them out due to the conditions the rabbits were in. The conditions were described as dire, we were sent photos and videos by the caller. We were appalled at the state of the hutches where these rabbits were locked up 24 hours a day. The breeder gave us permission to take 11 out of the 77 rabbits she owned. Why only 11? She wants to sell the babies and keep breeding the adults. Whilst on the phone we gathered details, hearing that she'd had many die already, we sprang into action to help these 11 and prayed she'd let us take the rest.
We picked up our lucky 11 within a couple of hours of the call to help. We had to buy more cat carriers and gather rabbit items to ensure we had everything they needed first as we didn't have anything for rabbits being a dog and cat rescue. We had planned to rescue rabbits once we'd got our centre, where we would have rabbit lounges and an acre or two of secure fields for them to hop around. Things don't go to plan as often as we'd like, it was an emergency, we couldn't say no. We converted our outside dog lounge to the first rabbit house, we then built a second from a previously donated shed. So much more has been done in the last 3 weeks too.
What did we see when we arrived?
Hutches full of faeces a foot deep, maggots waiting to hatch, bugs, flies, water bottles full of algae, no hay in sight, stained fur, hutches falling through from the months of waste build up. Conditions from a horror movie, the things you wish you'd never have to see, but these rabbits knew nothing else, most born in those horrendous conditions.
Fighting the tears, we identified the lucky 11 who would be coming to us for a new life, a clean and well cared for life, a life where they'd never be bred from or abused again. It broke us that she wouldn't let us take anymore, we had to leave 66 rabbits, including tiny babies in filth because she wouldn't let us take them. The lucky 11 are; a mum with 4 babies, a mum with 2 babies and 3 adult males – these are the ones that didn't sell. That's the only reason we could take them, no one wanted to buy them. We were forced to leave some of the babies behind because members of the public had shown interest in them on her Facebook page.

We have rabbits in the bedrooms, in the lounge and even had one trying to sleep in a dog bed! They are happy, they are safe and they are loving life in their new hutches and rabbit houses. We had some lovely people donate a couple of hutches and some indoor cages for them. Hay, food and other items as well – we can't thank them enough for their support.
What happened next?
Not long after we'd settled in the lucky 11 she asked us to take another 5 adults. One she thought may be pregnant (turns out she was, and had 6 babies 2 weeks after we picked her up). We got those lucky 5 safe and settled them into our rabbit house that was now becoming full of indoor cages. We thought our work was done, we were told her friends were taking some, and that the rest were going to breeders to be sold. We were devastated that we couldn't help any more but we focused on the lucky 16 we had saved and left our offer of help open for the others. We can't seize animals, even when they are suffering, we can only help with permission from the owner.
On the 7th of June, we received a text from the breeder "Can you come and get them please"
We rushed to put the cat carriers in the car and rushed over to her house. 19 more rabbits came to us that day. Taking our total to 35 (41 with the new born ones). 35 lucky rabbits, out of hell and into luxury care with our Animal Care Manager. We went from no rabbits to 35 in a week. We've pulled out all the stops to get these bunnies safe. We'd still take the rest if we were asked.
Who are the lucky 41?
We have 13 French Lops, 16 Mini Lops, and 12 Mini Rexs. Here are just 3 of our lucky ones, a lovely male Mini Lop, two female French Lops and a Mini Rex.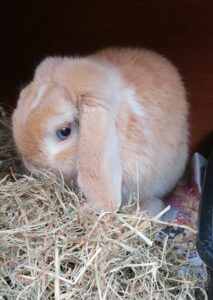 The story up to now.
We had 11 neutered in the first 2 weeks since they came, with thanks to Shirebrook Vets who have squeezed us in when possible. We have 32 vaccinated so far too. There is still another 30 to neuter and 9 to vaccinate. Our vet bill for the end of June is over £2000, that will double for the remaining neutering, and there's the rest of the vaccinations after that too. We will be paying out over £5000 in vet bills for these rabbits alone. That's not including the hundreds we've spent on hay, shavings, straw, food, toys, hutches, runs so far, as well as everything else we need for them too.
How much have we received in grants for them?
Nothing, not a penny. We are self funded and rely on the kindness of people like you, without your help we can't help any animals. We are so very grateful for every donation we receive, be it cash, food, hay or hutches, it all really helps us. We are a tiny rescue, we have our Animal Care Manager who does all the assessments, animal care and fostering, transport, home checks and 90% of the admin too, our other trustees help with fundraising, web stuff, spreading awareness and fostering where possible too. We've had Rabbit items donated by members of the public, Pets at Home Chesterfield and Pets at Home Foundation. We've also had 2 hutches donated by Home and Roost. We have also had 20 bales of Meadow Hay donated by Shaw Pet Supplies. We can't thank you all enough, it means so much to us to have your help and support. We still need so much more for their ongoing care. 
You can donate via our website here.
What happened to the remaining rabbits?
She refused to let us help any more and gave some of the rabbits to breeders, friends of hers, and she kept some. We are devastated that we couldn't help the others, but without permission we can't take any animals. We want to fight for powers to take animals from horrendous situations, but we need our rescue centre for that first. The RSPCA were called by the person who called us after we'd taken the first 11, they advised her to rehome them to us. We have been told they are happy for her to have some rabbits as long as there aren't too many, the conditions we are told are fine as the neighbour cleaned them out. As far as we are aware, they've closed the case and won't be doing further checks on the conditions. 
Final thoughts.
Rescue isn't all fun and bunny cuddles. The stress we've had since the 1st of June has been awful, certainly the wrong month to do a sponsored no booze (we raised £150, thank you to those who donated, it's vaccinated 3 rabbits). We've had sleepless nights, we've cried for the ones we had to leave behind. We've had very little sleep, late nights building shelters for them, early mornings to clean, feed and refill water bottles before dog walks. Rescue is hard, but it's the most rewarding thing in the world, to see an abused animal flourish and live happily ever after in their forever home.

Animals have no voice, so we have to shout for them.
Help us stop animals living in horrendous conditions, help us save more innocent lives. Please contact us if you know someone who needs our help. If you can't cope with how many animals you have, please contact us. As you've read above, we care deeply for every single animal we take in, we don't name previous owners or their business names if they are breeders, we can help you do the right thing for the animals in your care. We can find them loving homes. We have waiting lists full of wonderful homes for dogs and cats, puppies and kittens, bunnies and other animals too. We can help you. 
What can you do?
Share this post, tell your family and friends about everything we do for animals in need. Donate whatever you can for the animals in our care, start a fundraiser for us, come to our events to meet us and the animals. 
Thank you so much